Want to share songs you are listening to with your friends? Want to let your friend know about your taste? Heh! Last.FM is cool, a website they record songs have been played on winamp, windows media player and etc. Just install simple plugin and with your internet line, it will works perfectly. But first of all, register an account from Last.fm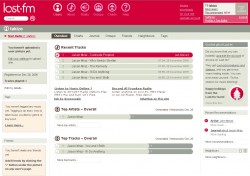 Easy Setup
After you have registered an account, just download the plugin for you desire music player. Follow few step to setup username and password for the plugin. After few songs have been played on your player, and now the song list will list on your personal page.
Build your network
Beside listing the songs, you also can search for friend who have the same interest with you and invite them to form a group or be your friend.
For more cool stuff, register an account and invite me to join you k? my id name is takizo and my page is here!