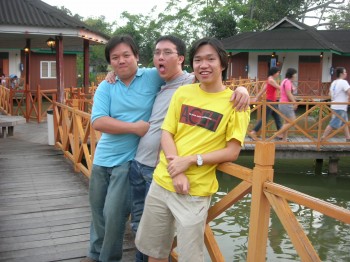 Congratulation to KP for the 1st Anniversary of Malaysiakini Chinese Edition. He is the one who on the left, punching my big tummy and on the right is KK, the one and only journalist when Malaysiakini chinese edition just started. To me, both of them have put on a lot of effort to run the chinese section, they have created something special for the chinese community, some news that you can't read from the RM1.30 daily newspaper. KP has helped me to report and follow up on my teacher accident too.
From 2 person becomes a team of 4 people, although when you heard FOUR people, sound like a small team. But, their passion on the quality news report, the hard work they put on to bring the pure news to your laptop/computer, it means a lot compare with those giant but not solid main stream media.
Keep up the good work, and sorry that I can't turn up on the 1st Anniversary event. Always support you guys.