i didn't write in English for quiet some time. the reason behind was i am lazy to check my grammar/spelling, futhermore i am not good at it. even though if i wrote something wrong, after posted i am lazy to edit it. sometime when I have the mood to do checking on grammar/spelling, i found it's really bad, then i give up to post it. but no matter good or bad, i felt i have to continue to do some english writing, it's because i write too much of scripting language, when replying email to colleague i always have this; if… else, while… or.. and… And etc etc etc… kinda boring when you read my mail.
so, this week was a havoc one, although it's not over yet but i felt so bloody tired. we had our company retreat at port dickson from sunday to tuesday, meeting and training carried on all day long. started from morning 8am until midnight 12am, after that some swimming and yam char-ing at the mamak in the middle of the night with bunch of great engineer, and of course with our brilliant boss until morning 3am, and the next day/after few hours have to wake up 8am in the morning to start the next day meeting/training.
the retreat went well, i think it benefit our engineering team, we had training on network, system, telco, security and sales briefing. i think the good on it is the whole team can understand what the other designated departments do everyday. and the fun part would be our big boss put in some his joke and q & a competition with our new colleague from Uganda, Mark Tinka.
well, i would say our team members are awesome, they are great people. although it's a small team, but you wouldn't believe the amount of work which need 50 people to accomplished can be done by us. we are growing, of course, if you are a network engineer/security analyst/system engineer would like to join us, please do send in your resume to us. more info here. LoL, it's not marketing kay? 😉 don't ask what we do in comment, chat with me i will tell you more on it.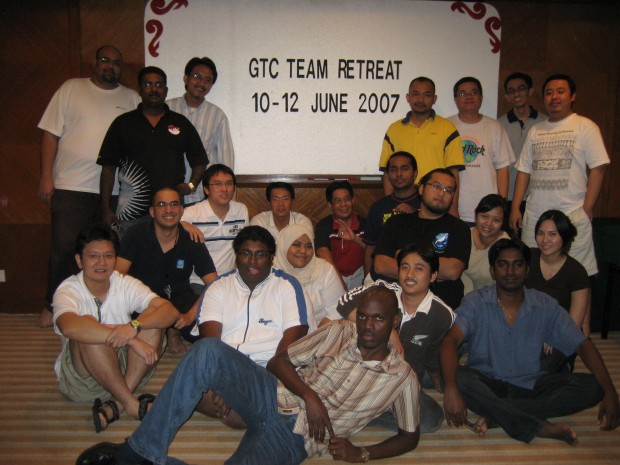 The biggest guy standing at the back is our boss, people usually greet him Mr Big.