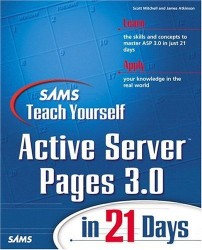 Am writing ASP code recently, enhance an existing application. Compare with PHP, ASP is way too far to compare with, uncomparable, the string function is not much compare with PHP, date function too, resources and documentation is hard to get. But I believe ASP.NET is much more advance, but I don't code in vb.
In case you have the same problem like me, can't get good manual/documentation like what PHP has, may be you can try this site, at least I found what I wanted. If you are ASP coder, please suggest me some useful links to know more about ASP.
Oh ya, I scan though teach yourself ASP 3.0 in 21 days, pretty nice book for beginner.