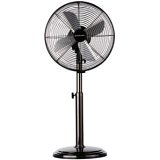 When I'm doing work in my room, after half an hour, my eyes feel very tired, sleepy, can't open up my eyes. But when I am doing work in the living room, I don't have the feeling, even I sit on the floor whole day, I can't even feel my eyes is pain, tired, can't open, but ass is pain la.
So, I observe a while in my room, now I know why. For a dumb person like me, I didn't notice the stand fan is actually blowing directly to my eyes, that's why my eyes feel pain. How stupid I am, so now I place the fan at a better "feng shui" position, now feeling better.
Continue work…
p/s: Panasonic stand fan is a good fan, I would like turn on air cond but I can't afford the electric bil, thanks Uncle Lim.