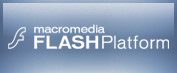 There are always fight on website issue, wether to use Flash banner or not to use Flash banner. I did some research on a few online news websites last time, I found out most of them not using flash banner. I think i have posted previously regarding Malaysiakini.com website look "cacat" on Linux/Unix box if they didn't install player on their browser.
I do not mean that Unix/Linux cannot install flash player, yes..it can be install. But we should consider the bandwidth and load time constrains.
Banner, what is banner? It's an online advertising channel. Why website banner? To deliver the advertisement to the user who surf your website and webmaster can make some $$$ lo. Flash banner is cool, animated, interesting, but now… when I am reading Malaysiakini, it really look like incomplete website.. 😛
Should we use flash banner? Bah.. I'm tired talking to them, nobody agree with me.. no point keep talking as the designer like flashing a lot. But do take some time check out CNN, CNBC, Soccernet, BBC, Businessweek and etc news website, do they flashing on their web heavily?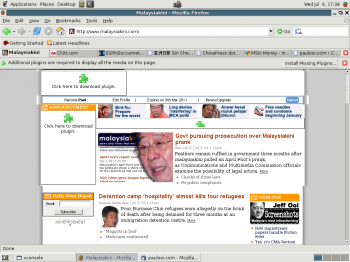 Flash plugin can't load 😛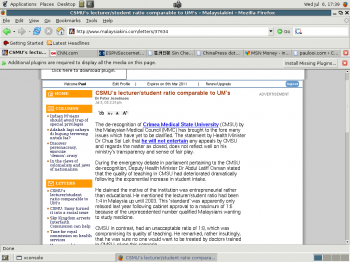 Advertisements missing, I can't see the banner 😛