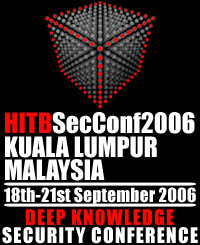 Have you patched your server lately? Have you upgraded your WordPress application lately? Did you run cvsup on your FreeBSD machine last weekend? No? Not yet? Do you know the 'Hack In The Box Security Conference' for year 2006 is ready to roll? No?
HITBSecConf06 is ready to explode on 18th September – 21st September 2006 in Kuala Lumpur, Malaysia. The largest security conference in Asia. Have you practised your hacking skills to capture the flag hacking competition? If not, it's not too late, set-up your team and start practising.
Conference tickets will be available soon. Ever wonder how successful the 2005 conference was? check it out. Stay tuned for more info, which I am going to blog from time to time till the conference day or check HITBSecConf06 office website.
I have created a HITBSecConf06 side banner(displayed on left). publish it on your blog and link it to the HITBSecConf06 official website. Spread it, just like how you spread the Firefox browser ;).