Update
I just came back from One Utama, drove all the way there, pay parking and had a word with Shong Lee Photo Shop's aunty, I shown her the bad pixel/dead pixel on my 2 days old Nikon D80 camera, and she said, I have to send to Nikon Service for them to check/repair and etc. Right after I heard what she told me, my heart immediately fall onto the plain and hard floor and broken into million of pieces.
It's extremely sad and depress now;
Monday night, I bought the camera at 9:30pm, came back home, quiet late, didn't really play with it, furthermore the batery is low, so I decided to charge it, and take some nice shoot during company's buka puasa dinner on the next day.
Tuesday night, I start to take some photo, play around with ISO and etc. During that time I am sure it doesn't has any bad pixel/dead pixel, because I had zoom in the picture to view the quality of the ISO I am using. After that I met 矮子 for a drink, and he found the red dot bad pixel/dead pixel on my camera LCD screen. I started to feel sad.
Wednesday night, which is just 30mins ago, I went to the shop and see what they can do, the only solution is send to Nikon Service Center
Right now, feeling unwell of course, a RM4500++ gadget, bought after 2 days have to send into Service Center. Didn't really play with it then have to send it in. Imagine, bring it to the shop, and to service center, and the technician will take off the parts, check, put it back, back to the shop, back to me. Well, for me, of course I am not willing to send in right now, next week will be festive season, hope to practice more and take more shots. Furthermore, I don't know how long will it take for the service. What I really not happy is it's a brand new camera which used not more than 5 hours, taken less than 500 pictures, owned less than 3 days, and it need to send in for services.
From what I am earning now, I am able to save RM300/month, I have to save 15 months then only able to buy the camera. In the 15 months I have to;
Write hundred thousand lines of PHP Code
Reply few thousand support email
Configure a lot of servers
Do a lot research and coding
Hard money, beside that I am not entitle any bonuses because I just joint this fantastic company early this year. So, my heart now is rocking up and down.
Buying new camera should be happy and excited, but the bad luck I have this month brough me sadness. Now, I have to think when to send the camera to the service center, and I have to take at least 1/2 day leave to bring the camera to Nikon Service Center in PJ, another 1/2 day leave to bring the camera back, not to mention parking and petrol of course.
It's just not my day, so when should I send it in? Or Nikon should swap me a new unit and make me become a happy man again. Sigh! Sad! Sien!
Written on October 18, 2006 @ 08:15am
This evening, around 8pm++, I got a very short and meaningful SMS from 矮子,"Bought". I knew he bought Nikon D80 too from Shong Lee Photo; but only body, and with a special l33t lens. So after that we meet up at TTDI for a drink before I went for my badminton game.
That fellow, unintentionally spotted a dead pixel in my D80 LCD screen. For a laptop screen, it need at least 3 pixels in order to change a new screen. Oh man, I have no idea with Camera, since the LCD screen so small, will they said at least 10 pixels in order to exchange a new unit? Cannot be right? The price is about the same with Dell Laptop man.
Hope not 🙂 I am bringing it back to Shong Lee Phone tomorrow night to show them the red dead pixel, wish me luck.
p/s: I made google search, getting bad pixel/dead pixel on camera LCD seem normal.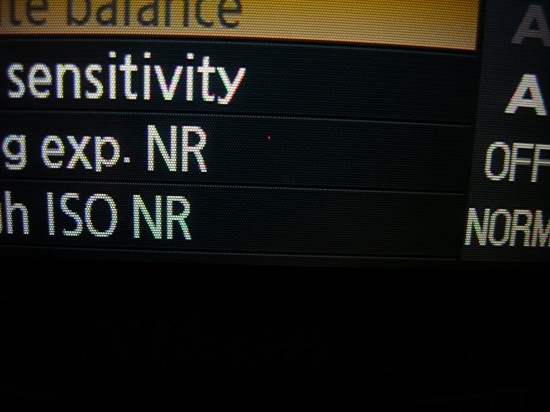 Do you see the red dot?