Rewind
Well, I got something to blog on last week. Few thing happen, and one of my best pal in office I ever meet left us on Friday! He is the fellow who always delay me and Max program!
Eric Left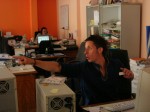 Oh.. Eric is gone.. Where? Vietnam! I think he is now enjoying vietnam style and forget about us. Well, he will be back to Malaysia in July, continue his study in USM, Malaysia. What the heck, he comes Malaysia University study? Yes, it's! Poor him, actually he going to continue his study in Japan, but the Japan government said he cheated a lot Japanese girls last time, "ban" to go back Japan! Heheh.. crap, anyways his Visa not approve.. or there is something about Mary.. I am not so sure.. :p, but dude.. hope to see you soon!
Dumpling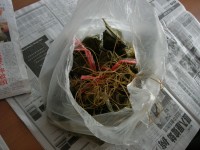 Wow… Mum got me 25+ dumpling, if I finish alone, most probably you guys can visit me in the hospital! Instead of enjoying the nice and tasteful dumpling alone, i decided to bring it to office share with my colleague(anyways, I din plan to finish alone, and my mum asked me to share with colleagues). Unexpectedly, the 20+ dumpling, by the time I bring it home, it only left 3-4 for my aunt and cousin. the 20+ dumplings were finish by 7 people, can you believe? Hehehe.. there is some shark/dinosaur inside the tech team. 😉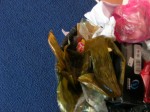 left: Dumping and the hard disk in the dust bin
Right: Instruder came for dumpling
Office TMNut got HACKED?
Gosh… Internet connection is our heart. If it stop working, our work also stop working. Our office TMNut SDSL line disconnected unexpectedly. Like usual, phone rang from editorial and we are finding the way to fix it. But but… we seem can't find anything wrong with the gateway server, router, cable… and, there is something wrong with the "MODEM" (Oh my god, when tested with my IBM X40, the internet can't work, Danny said my X40 problem… Damn insulting with my expensive toy! So do his Compaq X1000 works? :p)
Called to TMNut support and supricingly the support person came in after 30mins. Erm… the problem is found. Somebody change the modem Gateway address! For your information, modem gateway address only can be change by Telekom support enginneer, the terminal is password protected, so.. who the heck is hacking into to modem?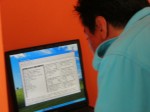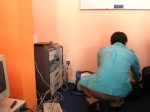 Ah, the kind and helpful support is here!
Sister Birthday
The lady who Always greet me big boy was having her birthday last week, the last time we meet was at Hartamas.. ERmMm.. Can't remember when, but I still remember your birthday! Haha, suprice to get my call to sing birthday song for you while you are sleeping?(sorry, din't reallize what time is it in Calgary, Canada), but do you know who am I?? :p Well, hope you doing well in Canada!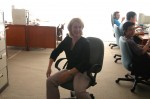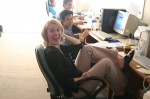 Olivia in year 2004