Today, my friend buzz me on messenger, invite me go to "upgrade" my IC, because when you "upgrade" your IC, you will stand a chance to win MyVI Home 🙂
I have changed my IC to MyKad 4 years ago right after they announce the new MyKad But I think my MyKad is an outdated version. Change IC and win MyVI, this is typical malaysian, must carry the carrot then only can walk.
I think just they have too much money but don't know where to spend. For me, the best way is fine the person who didn't change the IC, but not change IC and win prizes. And also I think there are a lot upgrade of MyKad I think my one is Beta version, after few month they release v1.. and now is v1.3? or V2? Why i said so? cause some of my friend their MyKad is with driving license, and some of them have more "emoticon" inside. Compare to my Beta version, is really lousy.
If they didn't have the final version, how many times do we need to change the MyKad I am also not sure is my Beta version works? or I also need to upgrade/patch to the latest version? I am not sure, but can win MyVI, I think I will consider to upgrade MyKad 😛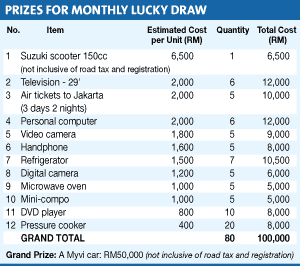 Source: The Star newspaper
p/s: thank siao lang for MyCard correction 😛