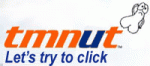 TMNut, the affordable yet VERY POPULAR broadband service for Malaysian(inlcluding me). Screwed up again at my area, slow, damn slow… slow until I can't do my work. Access to yahoo.com took me 1 minute, to my own blog also needed 30sec.
Their customer service is awesome, very friendly.. Erm, I mean the answering machine very friendly, the answering machine speak politely.. "sorry our customer service agents are dead, please hold your line while we looking for someone that still alive…" Ya, the customer service department is sleeping.. nobody serve the user but the answering machine!
It's bad, Malaysia only has TMNut provide cheap broadband, we still need to use it. But can you – TMNUT – please improve your service and don't waste our money? If you said you are a leading internet service provider, it's a shame for malaysian, because you are spliting on your own face.
Wake up TMNUT, please.. Wake up!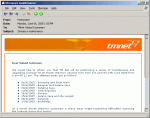 Maintenance on 1st June, but email sent on 6th June?