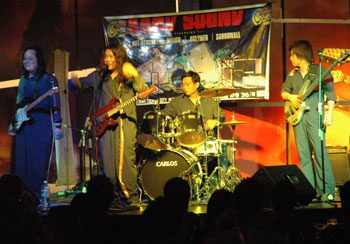 Uglymen is on 8TV tonight! Wondering whois Uglymen??? Then you got to check out 8TV tonight after Malaysia Idol, stay tune on Homegrown, and if you like Uglymen, please vote for them! 🙂 Uglymen members are from Alor Setar, Kedah, few of them currently are working @ Penang as DB admin, Tech Support and Programmer, all in IT line. Only Michael selling goreng pisang @ Pekan Rabu 😛 hehehe.. joking, Michael is music instructor.
You got to check out 8TV tonight to watch Malaysia very ugly, fat, humble and funny band. How ugly they are? From the picture can tell very ugly lo, have you seen fatty head bang before? watch it tonight 🙂 They are playing 3 songs tonight, one of the song is KA-NA-SAI(like a SHIT, not like a stone). Let me explain the meaning behind the song…
Song 1: Si Ai bin
Si Ai Bin is a Hokkien Dialect, it mean "Thick Face". It says about the person who care about glamorous, money and their "Facie". Something like buying Armani Exchange shirt from Pasar Malam but tell friend bought from 1U, Armani Exchange shop or driving Proton Wira red color, modify a little bit and tell friend it's Mitsubihi Evo V :P.
The most interesting part when they sing "Ciak Sai, Kao Sai, Lao Sai and Kanasai", it mean Eat Shit, Dog Shit, diarrhea and Like a SHIT! Wondering when showing on 8TV will be censor or not leh…. They won Asian Beat Malaysia Region Chamption in year 2003 with this song and represent Malaysia to Taiwan for Final and Bassist – Metal awarded Best Bassist award(??????). Also, with this song, they got signed by Kenny Music and release their debut album. Is a MUST listen feature song.
Song 2: Soh Lou
It's mean Fool. It talk about the reality and gangsterism in the REAL WORLD, there is no Peace.
Song 3: Ciak Ka Ki
It's mean "Eat Yourself". The song originallay named "Pak Chui Cheng, which mean "masturbate. Song can't sing "masturbate" else it will be ban 😛 so got to change the lyrics 😛
It describe about youngster life, when they are lonely, no girl friend, call friend movie, but friend movie with girl friend, no friend, nothing to do.. Then buy VCD or BT movie from internet, watch alone and etc… It's about lonely life of a youngster 🙂
Ok, That ALL! Watch it tonight, if you are interested to buy their album CD, please buzz me @ 012 454 6360, I got special edition with their signatures, now only left 20pcs, some of it already mail to Hong Kong and Austrialia. Be quick, grab it, support Malaysian band, Support local band, Support UGLY band 🙂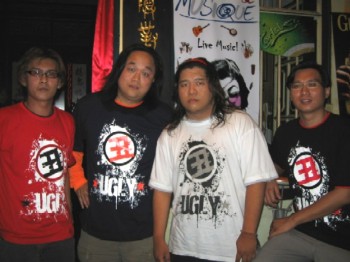 uglydudes!