I have (A) few of my friend(s) asked me why they can't couldn't update their Windows XP Professional. I think that they didn't know windows has launched their so called _Piracy Check_ on your windows original license before you performance any windows update. I assume they don't use ori, and suggest them they to switch (to) OSS 🙂
So, how good is (does) the _Piracy Check_ thingy works? I think is kind of bad, because you still can perform update(s) with the latest hacking tool named "Internet Explorer 6". You don't believe you can hack with "Internet Explorer"?
How to do that? Just one step..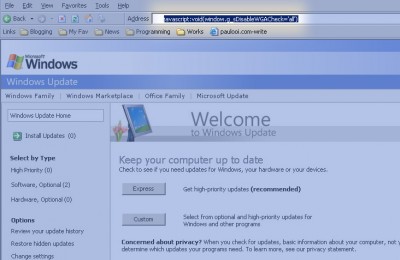 When you landed (on) windows update page, before you hit the "Express" or "Custom" button, paste the code "javascript:void(window.g_sDisableWGACheck='all')" on you address bar. After that, click on Express or Custom to update your Windows… (click to enlarge the image)