Well, I might be too late to dedicate message to former TMNet CEO, Mr Michael Lai. Rumor has been spreading in Septermber 2006 that Mike is going to leave TMNet.
When I first heard of that, I think that Michael has made the right decision to leave, in fact, it's a very good decision he made to leave. Or else, all his juicy talents are waste in the poorly managed premier ISP company in Boleh land. I don't think the top management appreciate Michael's efforts, having the meet up with TMNut Broadband's users, listen to their comments, suggestions and critics.
As I said earlier, in many many posts related to TM big Nut. It's wasting time to meet bloggers, broadband users to discuss about the Broadband services issues offered by TMNet. It's the cultures, the attitude problem in the company, if you want to change and make the users happy, first; Change the Staff Attitude.
Every consumer in any single corner of the world, what they want, is very simple; How Much I Pay for My Subscriptions, I Shall Get What I Deserved. Am I right? No matter how many million meet ups TM has made up with bloggers/subscribers, it won't help. For me, it's kind of stupid act, so I never turn up to the meet up. Wasting my time and petrol money.
Until now, I pay RM88/month for the giant ISP company in Boleh Land, my speed is still stuck at 50kBps-75kBps. I subscribed a 1mbps broadbanb, but I get less than that speed. I feel cheated, and I also feel tired continue complain it.
We live in this Boleh Land/Stupid Land, nothing we can do or change, because that monopolize ISP always have the very bad attitude which I really don't like it. "Use it if you like, leave it if you don't".
At last, Mr Michael Lai, all the best to you, you have made the right move, you have all my support and blessing in your future undertaking, amitabha.
And clap your hands, welcome the new TMNut CEO – Zainab Hashim.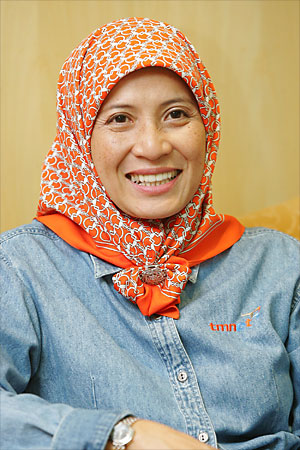 Photo from Jeffooi.com
Nothing to give you for the very first time greet. Here with my custom made TMNut's logo.